Examples of current and recent solutions CDG has been able to provide to its partnering agencies and community.
Dundalk Marine Terminal Track Realigment at Berth 6 and 7
(Baltimore City , MD- MPA)
Located at the Dundalk Marine Terminal - Berths 6 and 7, this project involved the re-alignment of the railroad track serving the facilities. The work was intended primarily as a maintenance measure. The work effort included the following major items:
Removal of an existing crane rail system.

Removal of the existing track, ties and surface pavement.

Casing the existing utilities that cross the track alignment.

Installation of new ballast material, ties, track and pavement section.
CDG prepared the Stormwater Management evaluation, report and MDE Quality Debit Application, designed Erosion and Sediment Control, and obtained MDE approval for both. We also prepared the construction documents for the Existing Conditions Plan, the Demolition Plan and the Proposed Rail Plan, Profile and Details.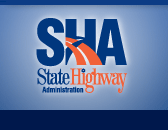 Replacement of Inner Loop Bridge over Wilkens Ave.
(Baltimore County, MD - SHA)
This large SHA Project is currently under Construction at Wilkins Avenue on the southeast side of the I-695 Baltimore Beltway. The project included the following major work items:
Remove and replace the existing inner loop portion of the I-695 bridge over Wilkens Avenue. The new bridge will be higher (to meet vertical clearance criteria) and wider (to accommodate future lane widening of I-695).

Vertical and horizontal adjustments to the I-695 on and off-ramps for Wilkens Avenue (ramps 1, 2, and 4) to accommodate future lane widening of the inner loop.

Replace the existing concrete median barrier separating the I-695 inner and outer loops immediately north and south of the bridge, requiring adjustments to existing median inlets.

Storm drainage upgrades within the project limits. Many of these new systems will convey runoff to Stormwater Management Facilities.

Installation of ten new stormwater management facilities to meet ESD requirements for the project. This includes four new facilities installed adjacent to the I-695 inner loop, two facilities on the outer loop side and four facilities installed on Wilkens Avenue.
CDG's design services included storm drain plans and profiles, Erosion and Sediment Control Plans and Details, and evaluation of a retrofit for the Existing Stormwater Management pond. Staged Erosion and Sediment Control Plans were developed to correspond to the three stage Maintenance of Traffic scheme. CDG prepared the submittal of the E&S Plans and coordinated with MDE through the review/revisions/approval process. In addition, CDG assisted the design team with roadway plan and cross-section production.
Also included in the scope of services were the Specifications, Quantities, and Cost Estimate for those items related to our design efforts. CDG continues to provide Post Award services including review of shop drawings, attention to Requests for Information, participation in project partnering meetings, and review of Contractor requests for additional funds.
Replacement of Canton Viaduct
I-895 over I-95 Ramps, Railroads & City Streets
(Baltimore City, MD - MdTA)
CDG is currently providing roadway engineering services for this mega MDTA design project. The scope of the entire project involves extensive bridge replacement and roadway improvements on I-895 north of the entrance/exit portals to the Harbor Tunnel in Baltimore City. CDG's participation includes:
Horizontal and vertical alignments for I-895 and the paved portions of Holabird Avenue and Boston Street

Complete design of relocated service road and parking lot, including geometry, plan, profile, storm drainage, typical sections, cross sections

Assessment of existing storm drainage.

Storm drain design for relocation due to retained fill structure locations and new scupper and bridge drainage, as well as extensions required for stormwater management purposes.

Stormwater Management for the new and reconstructed portions of the Canton Viaduct project based on the 2007 Stormwater Management Law.

Erosion/Sediment Control plans, concept and final designs.

Specifications for items designed by CDG

Quantities/Construction Cost Estimates
Back River WWTP Headworks Project
(Baltimore County, MD - City of Baltimore DWP)
The proposed project, currently in design, is located in the eastern portion of Baltimore County, Maryland on the campus of the existing Back River Wastewater Treatment Plant, which is owned and operated by the City of Baltimore, MD. The plant campus consists of over 400 acres adjacent to Back River. The project site occupies an approximately 40 acre tract on the western side of the campus, adjacent to Eastern Boulevard and a 695 exit ramp. The purpose of the project is to provide a facility that will mediate the influx of sewage volume during storm events.
The proposed improvements consist of the following major work items:
Removal of several existing structures and paved areas.

Construction of an Equalization (EQ) Pump Station.

Construction of several large EQ Tanks.

Construction of an Influent Pump Station.

Construction of Mechanical Screen Building.

Construction of a Grit Facility.

Installation of underground process piping and utility piping.

Site grading, roadway and parking paving, associated equipment installation and enclosure.

Storm drainage and stormwater management facilities.
CDG's participation includes Erosion and Sediment Control, Stormwater Management and Drainage Design. The Stormwater Management design under development will consist or numerous ESD micro-scale practices. This project is on a fast track design schedule.